ACAI Summer School on Automated Planning and Scheduling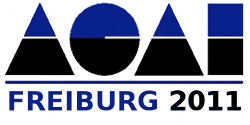 Application
Application to the summer school will require submission of
the completed application form
a CV and
an intention letter describing how the applicant's planned research is connected to the topics of automated planning and scheduling.
Students will also be required to provide a recommendation letter from their research advisors (to be sent directly to Michael Brenner, brenner@informatik.uni-freiburg.de).
To apply, please send the above documents to Michael Brenner by email (brenner@informatik.uni-freiburg.de).
Important dates
Application deadline: February 18, 2011
Notification: March 18, 2011
Registration: April 29, 2011
In order to ensure the success of the school, the registration will be restricted to 60 participants. In case of over-application, the preference will be given to students at the beginning of their research path.
Registration Fee and Support
The registration fee is 450 EUR. It covers:
Admission to all ACAI-11 courses
Admission to the ICAPS-11 pre-conference programme (workshops and tutorials)
Accommodation from June 6 - June 9 at Schloss Reinach in a double room. For participants who want to stay in a single room, the registration fee increases by 80 EUR. (Accommodation during the ICAPS pre-conference programme is not included in the fee.)
Breakfasts, lunches and coffee breaks at Schloss Reinach
Every student accepted into the summer school can apply for a grant that can be used to partially cover registration fee, accommodation, and travel expenses. Request for such financial support should be indicated on the application. Decisions about allocation and size of the grants will be announced after notification, in April, 2011.