ACAI Summer School on Automated Planning and Scheduling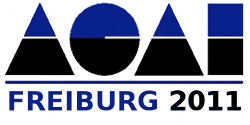 Venue
The tutorial part of the summer school (June 7-10, 2011) will take place at Schloss Reinach, a scenic hotel a few kilometres from the ICAPS conference site in Freiburg, Germany. Participants will then move to accommodation in the centre of Freiburg to attend the ICAPS pre-conference programme (workshops and tutorials).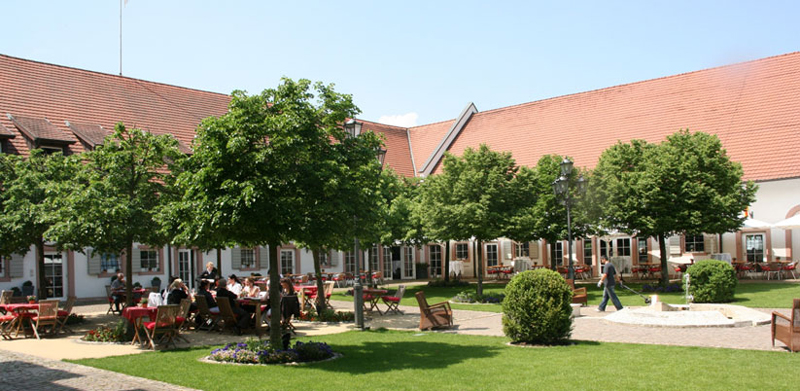 Accommodation
Accommodation from June 6-June 10 (four nights) at Schloss Reinach in Munzingen is included in the registration fee. Participants should organize their accommodation for the remaining days (for the ICAPS pre-conference programme in Freiburg) on their own, starting from the evening of June 10. Information on hotels and holiday flats in Freiburg is available on the ICAPS 2011 accommodation page. Please feel free to ask Gabriele Röger for support if you encounter any problems.
Travel Information
Traveling to Munzingen can be decomposed into getting to Freiburg and getting from Freiburg to Munzingen. We give some information on both parts below. For those who are interested, we will arrange some meeting points and times in Freiburg to travel together to Munzingen after registration. We will also give you some mobile numbers of the organizers, so you can contact us in case of problems.
Getting back from Munzingen to Freiburg is much easier: we will arrange transportation to Freiburg after the end of the tutorial part of the summer school on June 10.
Getting to Freiburg
Information on how to get to Freiburg is available at the ICAPS 2011 travel information page.
Getting from Freiburg to Munzingen...
... by taxi
A taxi from Freiburg center to Munzingen costs around 23 Euro (a van/mini-van taxi that can carry more than 4 passengers costs around 35 Euro). Please arrange a fixed price with the driver in advance (although in our experience German taxi drivers do not try to cheat their passengers).
... by public transport
You can search for connections from Freiburg to Munzingen at the website of the Deutsche Bahn. Search for connections from Freiburg(Breisgau) Hbf (if you want to start at Freiburg main station) to Romansstraße, Freiburg im Breisgau-Munzingen.
Munzingen is at the border of two fare zones. If travelling from Freiburg, you can use the general rule that you need a ticket for fare level one if arriving with bus 33 or 35 and a ticket for fare level two if arriving with bus 241.
If you start your trip at Freiburg main station, you can simply buy your ticket at one of the RVF or VAG ticket vending machines there. If you start from somewhere else in Freiburg with a tram or city bus (those with two-digit numbers), you can buy the ticket inside at the vending machines (you need coins; the machines give change). You can buy tickets in all buses from the driver (only cash; drivers give change) although in the city buses they do not like this too much because of the tight schedule.
For convenience, we list below some connections from Freiburg main station to Munzingen.
15:16
Freiburg Hbf (Stadtbahn)
Tram 3 towards Munzinger Straße
15:29
Freiburg Munzinger Straße
15:33
Freiburg Munzinger Straße
Bus 241 towards Eschbach Ballr.-Dottinger Str.
15:47
Munzingen Romanstraße
31 minutes, 3.60 Euro
15:46
Freiburg Hbf (Stadtbahn)
Tram 3 towards Munzinger Straße
15:59
Freiburg Munzinger Straße
16:04
Freiburg Munzinger Straße
Bus 35 towards Munzingen Windhäuslegasse
16:22
Munzingen Apotheke
36 minutes, 2.10 Euro
16:15
Freiburg main station platform 4
Train RE 5343 towards Basel SBB
16:20
Schallstadt Bahnhof
16:23
Schallstadt Bahnhof (bus stop)
Bus 241 towards Bremgarten Stube
16:30
Munzingen Romanstraße
15 minutes, 3.60 Euro
16:32
Freiburg ZOB (next to the train station)
Bus 241 towards Bremgarten Stube
16:59
Munzingen Romanstraße
27 minutes, 3.60 Euro
16:38
Freiburg main station platform 3
Train RB 26575 towards Basel Bad. Bhf
16:43
Schallstadt Bahnhof
16:52
Schallstadt Bahnhof (bus stop)
Bus 241 towards Bremgarten Stube
16:59
Munzingen Romanstraße
21 minutes, 3.60 Euro
16:50
Freiburg ZOB (next to the train station)
Bus 7240 towards Ebringen Rennweg
16:59
Freiburg Munzinger Straße
17:04
Freiburg Munzinger Straße
Bus 35 towards Munzingen Windhäuslegasse
17:22
Munzingen Apotheke
32 minutes, 2.10 Euro
17:16
Freiburg Hbf (Stadtbahn)
Tram 3 towards Munzinger Straße
17:29
Freiburg Munzinger Straße
17:33
Freiburg Munzinger Straße
Bus 241 towards Bremgarten Stube
17:47
Munzingen Romanstraße
31 minutes, 3.60 Euro
17:35
Freiburg ZOB (next to the train station)
Bus 7240 towards Ehrenkirchen Gewerbegebiet
17:44
Freiburg Munzinger Straße
17:51
Freiburg Munzinger Straße
Bus 33 towards Munzingen Windhäuslegasse
18:19
Munzingen Apotheke
44 minutes, 2.10 Euro
17:46
Freiburg Hbf (Stadtbahn)
Tram 3 towards Munzinger Straße
17:59
Freiburg Munzinger Straße
18:04
Freiburg Munzinger Straße
Bus 35 towards Munzingen Windhäuslegasse
18:22
Munzingen Apotheke
36 minutes, 2.10 Euro
18:15
Freiburg main station platform 4
Train RE 26523 towards Basel Bad. Bhf
18:20
Schallstadt Bahnhof
18:25
Schallstadt Bahnhof (bus stop)
Bus 241 towards Bremgarten Stube
18:32
Munzingen Romanstraße
17 minutes, 3.60 Euro
18:33
Freiburg Hbf (Stadtbahn)
Tram 5 towards Freiburg Bollerstaudenstraße
18:55
Freiburg Maria v. Rudloff Platz
18:58
Freiburg Maria v. Rudloff Platz
Bus 33 towards Munzingen Windhäuslegasse
19:19
Munzingen Apotheke
46 minutes, 2.10 Euro
18:55
Freiburg ZOB (next to the train station)
Bus 7240 towards Ehrenkirchen Gewerbegebiet
19:03
Freiburg Munzinger Straße
19:06
Freiburg Munzinger Straße
Bus 241 towards Hausen a.d.M. Falkensteinerstraße
19:20
Munzingen Romanstraße
25 minutes, 3.60 Euro
19:11
Freiburg Hbf (Stadtbahn)
Tram 3 towards Munzinger Straße
19:24
Freiburg Munzinger Straße
19:30
Freiburg Munzinger Straße
Bus 35 towards Munzingen Windhäuslegasse
19:52
Munzingen Apotheke
41 minutes, 2.10 Euro
19:35
Freiburg main station platform 3
Train RB 26585 towards Neuenburg
19:44
Schallstadt Bahnhof
19:57
Schallstadt Bahnhof (bus stop)
Bus 241 towards Bremgarten Stube
20:03
Munzingen Romanstraße
28 minutes, 3.60 Euro
20:04
Freiburg Hbf (Stadtbahn)
Tram 3 towards Munzinger Straße
20:19
Freiburg Munzinger Straße
20:21
Freiburg Munzinger Straße
Bus 35 towards Munzingen Windhäuslegasse
20:43
Munzingen Apotheke
39 minutes, 2.10 Euro
20:35
Freiburg main station platform 4
Train RB 26587 towards Neuenburg
20:44
Schallstadt Bahnhof
19:57
Schallstadt Bahnhof (bus stop)
Bus 241 towards Bad Krozingen
21:04
Munzingen Romanstraße
29 minutes, 3.60 Euro
20:56
Freiburg Hbf (Stadtbahn)
Tram 5 towards Freiburg Bollerstaudenstraße
21:18
Freiburg Maria v. Rudloff Platz
21:21
Freiburg Maria v. Rudloff Platz
Bus 33 towards Munzingen Windhäuslegasse
21:40
Munzingen Apotheke
44 minutes, 2.10 Euro
21:26
Freiburg Hbf (Stadtbahn)
Tram 5 towards Freiburg Bollerstaudenstraße
21:48
Freiburg Maria v. Rudloff Platz
21:51
Freiburg Maria v. Rudloff Platz
Bus 33 towards Munzingen Windhäuslegasse
22:10
Munzingen Apotheke
44 minutes, 2.10 Euro
21:56
Freiburg Hbf (Stadtbahn)
Tram 5 towards Freiburg Bollerstaudenstraße
22:18
Freiburg Maria v. Rudloff Platz
22:21
Freiburg Maria v. Rudloff Platz
Bus 33 towards Munzingen Windhäuslegasse
22:40
Munzingen Apotheke
44 minutes, 2.10 Euro
22:26
Freiburg Hbf (Stadtbahn)
Tram 5 towards Freiburg Bollerstaudenstraße
22:48
Freiburg Maria v. Rudloff Platz
22:51
Freiburg Maria v. Rudloff Platz
Bus 33 towards Munzingen Windhäuslegasse
23:10
Munzingen Apotheke
44 minutes, 2.10 Euro
22:56
Freiburg Hbf (Stadtbahn)
Tram 5 towards Freiburg Bollerstaudenstraße
23:18
Freiburg Maria v. Rudloff Platz
23:21
Freiburg Maria v. Rudloff Platz
Bus 33 towards Munzingen Windhäuslegasse
23:40
Munzingen Apotheke
44 minutes, 2.10 Euro
23:26
Freiburg Hbf (Stadtbahn)
Tram 5 towards Freiburg Bollerstaudenstraße
23:48
Freiburg Maria v. Rudloff Platz
23:51
Freiburg Maria v. Rudloff Platz
Bus 33 towards Munzingen Windhäuslegasse
00:10
Munzingen Apotheke
44 minutes, 2.10 Euro